The Sonic Squirrels 2930 are pleased to share their solution to threading ties into pleated and/or shaped fabric masks. These 3D needles work with many sizes of elastic, cording, knit T shirt ties, bias tape, and woven fabric ties. The needles also make it easy to "thread" many masks at once if you are producing in bulk. We give them away in pairs. The needles are approximately 5 and 5.5 inches in length. Each needle takes about 10-12 minutes to print on an Ultimaker 2+ in PLA+ filament. Times and results will vary depending on settings. We tried printing multiple needles at once, but found trailing filaments to be a problem.
https://grabcad.com/library/mask-elastic-sewing-needle-1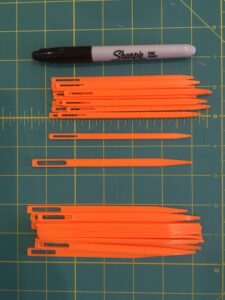 First Teams for Food Lifeline GoFundMe: https://bit.ly/3b6sMbO
We encourage you to check out the great T-shirt designs that FIRST teams have created at: https://teespring.com/stores/first-for-food-lifeline The money will be going to those in need.